Antonio's Dine & Wine @ TTDI
Last Thursday, Xell & I went celebrating an old friend's belated birthday. Not knowing where to eat, we let the birthday girl choose a place for dinner. And so we ended up at Antonio's Italian Restaurant. The restaurant is located same row with Brunsfield @ TTDI. We've always been curious about this restaurant, so finally we gave it a try.
The Entrance
Once we step in the shop, we're greeted by the friendly which I think might be the owner of the restaurant. The decoration of the shop is very nice. I suppose we can say, quite Italian style. There's many wine bottles on display. There was one bottle of wine which I drank before when I was in Italy, and it's on display too.
First half of the shop & the Cashier counter
The entire restaurant view from front
As you can see, the entire restaurant is dimly lit. It was a quiet night and there were no other customers around at that time. Seems like we have the entire restaurant to ourself. I actually felt quite comfy in the restaurant with the ambience and all, it's quiet and it will be a great place to hang out with old friends and for a peaceful celebration. :p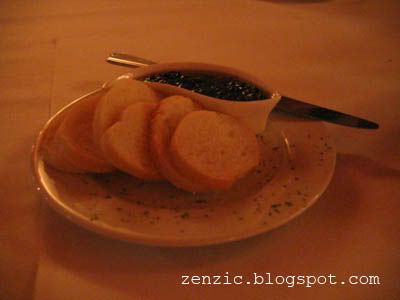 Bread as Starters


It's usual that in western restaurants, all meal begins with bread. The black color dish is actually grinded olives in olive oil. It's like black color paste where you spread it over your bread. It taste quite good and for non-olive takers, better not try. :p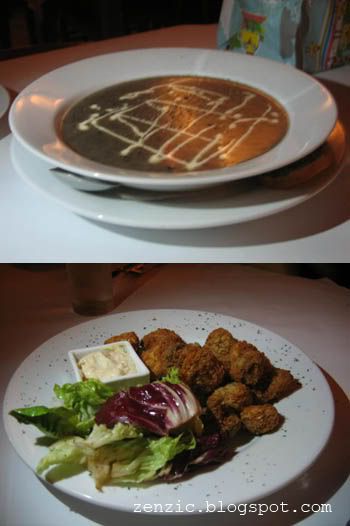 Wild Mushroom soup & Breaded Mushrooms as Appetizers


The friends of mine aka the birthday girl and her sis are mushroom lovers. :p Hence, this explain why there's a lot of mushroom dishes. The wild mushroom soup taste really unique, or shall I say, I've never tried wild mushroom soup before. It's really nice and has a pretty heavy mushroom taste unlike the usual mushroom soup you get. The breaded mushrooms taste pretty good too! I especially like the salad accompanying it. It uses some citrus dressing I presume, it taste a bit sweet and sour, pretty refreshing taste.
Fetuccini Carbonara & Marinated Chicken
The Carbanora has to be my favourite dish for the night. The sauce is not overly thick and cheesy to make you feel disgusted after having too much. The taste is just right. As for the chicken, I can't really describe the taste. haha... It's not too bad, with a bit of spicyness. There's some stuffings in the chicken which includes chilli. Personally, I don't think I will order that dish again if I ever go back there. :p
Own made mushroom pizza


As I've mentioned earlier - mushrooms lovers. :p They chose to customized their own pizza flavor which turns out to be Mushroom pizza! haha... It was not bad. Xell hates eating so-called fungus aka mushrooms. She was picking out all the mushrooms from the pizza and only wanted the cheese. All the mushrooms end up on my place which I really don't mind. XD
Chicken Lasagna

And the final dish of the day is chicken lasagna. Seriously, the lasagna taste very good. Xell say "At least it has a taste!" Haha... She's complaining that some of the lasagna she ate does not have any taste. Personally, I only had lasagna in a couple of places - Dave's Deli & Pizza Hut. Dave's Deli has great lasagna but Pizza hut's lasagna is like a pile of shit. On the other hand... this lasagna taste good but can't really compare with Dave Deli's as there's some differences in taste.
Complimentary Birthday Cake
My friend did mention that it's a birthday celebration when she make a reservation. And tada! A complimentary birthday cake. Seriously, the cake is very very good! Chocolate ice-cream cake I think... or not... Chocolate mousse cake? I have no idea... but it's reallly goooood!

The meal does not comes cheap, and not overly priced either. But this is definately not a place where you can have dinner all the time. :p The entire meal cost about RM 136 with 10% service charge and surprisingly, no government tax. Overall, a very satisfying meal, enjoyable night and I will definately go back there when I have more money for fine dining. haha....



For Reservation & location....




32, Jalan Wan Kadir 4,




Off Jalan Damansara,




Taman Tun Dr. Ismail,




6000 Kuala Lumpur





Tel: 03-77254164