An Evening with Jim Brickman @ Genting Part 2
Now let's continue with Jim Brickman... The concert started at 8pm. However, Jim Brickman didn't appear until 40 minutes later. Fauziah Latif and this girl named Phoebe from UK came out to sing before Jim Brickman. :p I suppose it's because there are plenty of people still coming in to arena of stars at that time. :p


The Stage

Fauziah sang 4 songs and 2 of them were Jim's songs but translated to BM and it will be recorded in her new album. The 2 songs are Your love and Valentine (Kekasihku) (I think!) hahah... I can't really remember the BM title though. If you wonder who is she, she's actually one of the judge for Malaysian idol and people usually call her Kak G. She looks really pretty that day and her singing was good. XD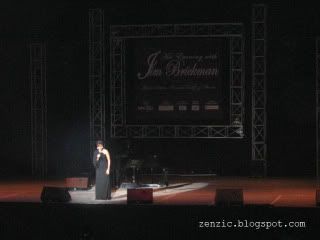 Fauziah Latif
After her came this Phoebe from UK to sing another 4 songs. One of them was done a duet with Fauziah. Honestly I have no idea who is she but her voice is sure good! But whatever she was wearing looks really horrible. And her hair! I wonder who's her hairstylist. Her hair makes her looks so old!!! >.<

After the 2 of them, finally Jim Brickman is out!!! He started off playing this song.... I found this on Youtube. Someone went the same concert and recorded the opening. XD Isn't it nice?
Jim Brickman Opening
And the below is recorded by our dear Xell. It is about Jim Brickman explaining his left leg. Throughout the opening, Xell have been asking me about his left leg. There was something wrong with his left leg because it kept moving all over the place. Well... then later he gave a really funny explanation about it.

Jim Brickman and his left leg