Eastern Delight (东丰) @ Kota Damansara
Been a bit busy lately, and finally have some time to blog... :p
Last weekend, dad took whole family to Kota Damansara to look for somewhere new to eat. We ended up having Porridge Steamboat at Eastern Delight. It was mom's treat. :p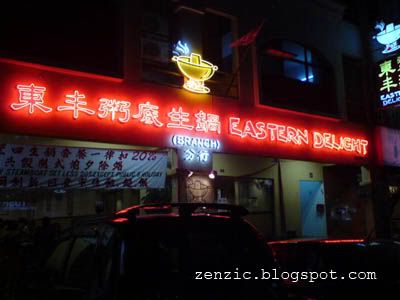 Entrance


Seems like the restaurant is very popular. This is suppose to be a branch where the main restaurant is at Sri Petaling. The restaurant is packed and apart from what you see in the picture below, there's another section the same size at the right hand side which is packed too!

Interior
Set menu
We ordered set menu for four. It comes with prawns, many type of meat balls etc... It might not look a lot. But you can only tell if it's enough once you start to eat.


If you look at the picture, there's really nothing very special with the ingredients you get for the steamboat. However, I must say that the food are very fresh. Look at the prawns and the fishballs. One thing I am quite happy about is the various type of meatballs seems to be made by the restaurant itself and not those meatballs you buy from groceries shops or market. The meatballs were very fresh, delicous and very bouncy too. You know that bouncy feeling when you eat meat balls. haha...
The restaurant specialty is their porridge steamboat, but of course, they have the normal soup one too. The porridge is charged by per head. It cost RM 1.60 per head, so there were four of us. You get unlimited refill of porridge after that.

First, the claypot is fill up with
porridge
. Let the porridge boil, then you dump whatever ingredients you wish to eat inside. Just eat when it's cooked. Haha... All of us ate porridge the last. By the time all the rest of the food is finished, we cracked 4 eggs into the porridge and dump all the vegetables (Bayam) into the porridge.

You can then put whatever seasoning you like, salt, pepper, sesame oil etc. All the standard seasoning for porridge are available on the table. The porridge was very sweet in the end and very delicous. That's coz all the taste of the meatballs, prawns, fish etc taste are in the porridge. One thing I must compliment is their chilli. I really love their chillies.

The meal was surpringly extremely filling. The only person left to finish everything up was actually my sister. The meal overall is delicous, though a bit costly. A meal for 4 plus drinks cost about RM 80+. But there's really something I want to complain about the meal is their "yau char kuai" was HORRIBLE! That's the worse "
yau char kuai" I ever ate in my life. >.< Otherwise everything was all good.

Location
39 & 41, Jalan PJU 5/9,
Dataran Sunway,
Kota Damansara,
47810 Petaling Jaya