Bak Kut Teh Lau Kau @ Segambut
One of the greatest lunch I ever had during a normal office lunch hour is... having BKT at Segambut! Yah!!! It sounds very far right? Actually not lar... from Mt.Kiara to Segambut very near only! haha... and it's a Friday!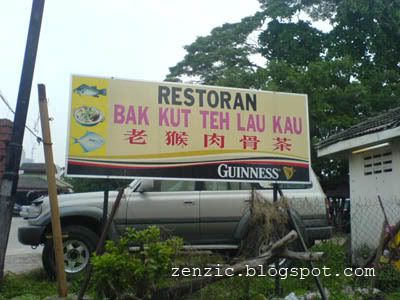 And tada... We're at Bak Kut Teh Lau Kau. The name sounds damn funny... but in mandarin, it's suppose to mean "Old Monkey". And yeah... it still sounds funny. hahaha...
Anyway, this place is really hidden. I don't think I know how to come here again. :p but look at the lunch crowd! This place is really popular and according to my colleagues... it's a famous place to eat BKT in Segambut. The restuarant is really simple... under the tree with very simple settings. But I am quite surprised there's TV though!

Since one of my colleague is quite familiar with the dishes they served here, he did all the ordering. The person who took our orders is a little girl about 9 or 10 years old. She's so cute la! She really can talk! Very funny... :p She's very good at promoting the food too!

Anyway, apart from the BKT, we had some vegies, shimmered pork (I really dunno how you call it in English. In Canto is pronounced as "Lou" ) and sour vegetables. The BKT has a very unique taste, unlike any BKT I've ever eaten before. The soup is really nice... I like the sour vegetables and the shimmered pork too! The pork is really really good!

I highly recommend this place. XD The entire meal feeds well for 6 person in which out of 6, 4 are guys! 4 quite big guys. :P And the meal cost roughly about RM 10 per person. I will want to come back again for BKT but that's if I know how to get here lar. hahaha...