Japanese Buffet @ Jogoya, Starhill
Note: Actual event took place on 23 September.

*chants* JOGOYA! JOGOYA! JOGOYA!
That was what I've been chanting when me and my sis made plans with J to celebrate her birthday at Jogoya, which Zen has been going on and on bout that place. And finally we went on the 23rd Sep (Yeah yeah, I know it was ages ago but had no time to update... hehehe), two days after J's birthday.
Anyway, the interior design was superb (of course, this is expected of anything inside Starhill) and we were greeted with the sight of gross-looking snails in a huge aquarium as we walked in from the main entrance.

Unfortunately, we don't have any pictures of the snails...
If I was to comment about the food, please don't take heed of any of my comments as I have sensitive tastebuds and kinda enjoy airplane food... Anyway, the selection of food was pretty limited to me, like I have said earlier, I'm picky on food.
Comments on the food... I think I'll leave it to Zen on this part. Oh but I must mention that the hype on Movenpick ice-cream left me kinda disappointed when I finally had my share of 3 scoops of it... there's nothing special bout the flavour, in fact I think I prefer Lecka Lecka to this... And my friend's bf actually had 6 scoops of it... our inital aim for 10 scoops so that it would cover the price of the buffet...
Well...since Xell wants me to write on the food... I will continue from where she left out... Basically, this is my second time to Jogoya. First time was a treat from mom's friend. It was excellent! So I was all excited to eat here again. There's not many pictures taken since we're not exactly allowed to take pictures in there apart from your own seats.
Jogoya is huge and divided into many sections. From what I can remember, there's Japanese, Chinese, Indian, Western, DimSum, Desserts, Drinks etc. For every section, there's chef cooking food right when your order. All tables comes with metal clips with numbers, for food that requires cooking, you just drop the clip on the food you want to it and the order will be sent to the table.
One those most popular dishes has to be the unlimited Sashimi and Oysters. Even Sashimi has many different type of fishes apart from the usual Salmon and Tuna. At each section, take for example teppanyaki, you can choose from chicken to fish to Squids to vegetables.... Same would go for the Indian and Western food.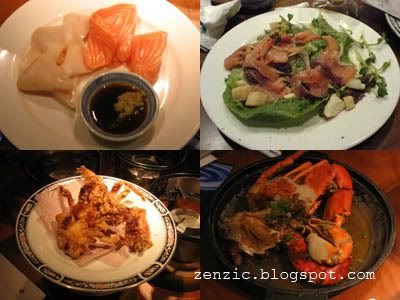 From Top to bottom left to right: Sashimi, Anchovy Salad, Softshell crab and Crab on hotplate
Apart from the Sashimi, I had plenty of Softshell crab, prawns and I had snails too! Remember Xell talks about those gross looking snails? yeah, I had them. Not the first time I've been eating snails :p I had escargotz in Paris too! And there's this pretty special Anchovy Salad which is very nice.

Apart from a wide variety of food selection, there's a wide variety of drinks as well (minus the alcoholic drinks). :P There's hot drinks range from various type of tea (green tea, Shui Sin, Oolong tea etc) all in packs where u can just made them in pots. There's of course various type of coffee, ice-blended drinks and fresh juices. But out of everything, the most popular drinks of all has to be the Thai Coconut. The Thai coconut is my personal favourite as it is really sweet!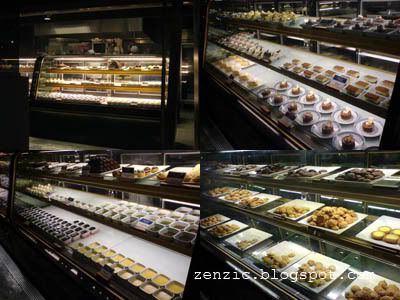 Rows and rows of Desserts
It's really hard to tell what is nice and what is not. There's just too much selection and of course there's some food which are not that good and some are good. The most attractive section of all are the desserts section which is the place where we sat. Our table is right next to the dessert section. It was really tempting to begin our meal with desserts. The cookies are nice, some of the pudding are nice. But I was VERY VERY dissappointed because I dunno for what reason, there's NO Creme Brulee!!! >.<

Well, with the wide selections of food, the buffet didn't come in a cheap nor affordable price. Buffet dinner cost RM 88++ and starts from 5pm - 9.30pm. There's lunch, hi-tea and supper as well. Supper ends on 1am. Different buffet hours comes with a different price. :P The most expensive meal of course would be the dinner. There's also a 10% service charge & 5% government tax.



Location & Reservations ...




T3, Relish Floor,




Starhill Gallery,




181, Jalan Bukit Bintang,




55100 Kuala Lumpur





Tel: 03-2142 1268



(

Xell's comments in purple

, Zen's in black)