Kluang Trip & Gunung Lambak
During the 2 Hari Raya Holidays, my whole family together with my aunt and cousin went to Kluang to visit my grandma. This grandma is actually my mom's mom. She's quite old and since some of us works and studies, it's quite hard to pay a visit to my grandma.

The entire journey takes about 3 hours plus. We left early Tuesday morning, since it's already first day of raya, there's no jam! But the entire journey is pure suffering!!!! My cousin gets the front seat and my mom, sis, aunt and me all 4 of us cramped at the back seats!!! We're all not very slim... =_='

Anyway, behold...This is my grandma's house. It's more than a century old I believe. Since my great grand parents stayed here too! Though I've not met any of them before including my grandpa.

The house is made out of wood. It doesn't used to look like this. Erm..that's like before I was born. But the house now is pretty much what I see since young.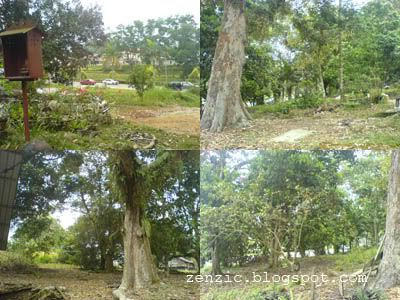 Well, during the rambutan and durian season is the happiest time for all my relatives. There's like many durian trees and rambutan trees and during the season, there's plenty to eat till my grandma will sell the rambutans away (by entire tree).

Also coz of all these trees surrounding the house, there's unlimited, uncountable, crazy amount of mosquitos in the evening! My sis record of mosquitos bites is actually 100. =_=" Scary huh!!!

Sleeping at night for this trip is a disaster as well! For some reason, a few of my aunties and childrens stayed overnight here despite having their own comfy homes. End up, there's like 5 of us crammed on a tiny queen size bed. I could hardly get any sleep. *sighs* The living room and other rooms are all crammed with people too! LOL... Just a bit of info about my mom's family, there's like 13 of bros and sis. Just imagine CNY. My aunt with their chilrens and their childrens have childrens... There's about 3 generations and I'm not sure if it reached 4th or not. haha...

Most of the time, is boring to be in my grandma's house. There's nothing much to do. No Astro, no internet no pc no aircond no hot water....yada yada... This time, everyone got kinda adventerous and we went to Gunung Lambak for a hike.

Gunung Lambak is an easy mountain to climb. It's 510m above sea level. Many local people go there during the evening for exercise. The kids go there too! Can you see the monkey in the picture?
This hanging bridge actually leads to children playground. haha... The bridge is quite fun to walk. It's not very high up, so there's no worries for people who's afraid of heights.
Gunung Lambak has nice pathways and wooden steps. It's really not that hard to climb. But due to time constraints, I only manage to make it to... less than a quarter of the mountain. hahaha... And also coz of the sleeping arrangements, my initial plan to climb the mountain next morning has failed terribly... *blush*

Only 2 of my cousin (both male), one uncle and my dad went to climb the mountain early in the morning. Well, they reached the top and got back at at about 10 something am. I think it took them about 2 hours to go up and down.

Let's hope I have the determination to climb it on my next trip to Kluang!!! >.<