Strawberry joss-sticks...
When I was at Seremban with my colleagues, we went to the new shopping mall at Seremban 2 just to find a place to cool-off from the heat...
Went to Watson with the initial intent of buying a facial wash (I hate it when my face is feeling sticky and we were rushing off for a farewell dinner after Seremban, so I wasn't allowed to go back home) but ended up buying more stuffs along the way... and one of it came in the cutest box I've ever seen!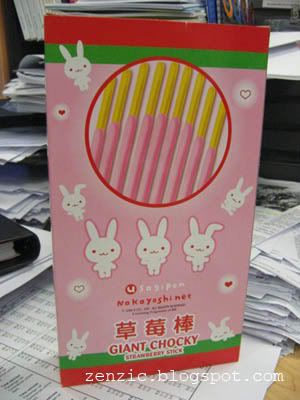 It's actually giant Pockies!!!! *screams* And it reminds me of joss-sticks too... but it's so damn cute and it taste just the same except bigger in size... Unfortunately, it's only available in Watsons as it's only manufactured for Watsons...
But I haven't check whether the 1Utama Watsons has this or not... my sis bought another box from the Petaling Street Watsons...