Beef Ball Noodle @ Soong Kee Restaurant, KL
Last weekend, I went to KL with a couple of my friends and they suggested to have beef ball noodles as dinner. Since I have not eaten beef ball noodles before I was happy to go along with it.

Restaurant Soong Kee is located somewhere near Masjid Jamek. It's on one of shop houses on the left side of Masjid Jamek but it's not the row of shop houses by the roadside. It's behind. Anyway, it's somewhere opposite UniAsia and RHB bank. I was told it's very famous and judging by the amount of people in the shop, I do believe that it's quite famous. haha...
Since it's a beef ball noodle shop, of course first thing is order their beef ball noodles. If you do not fancy beef, the shop serves Pork ball Noodles as well. Since it's the first time I've been here, I was quite surprised that the noodles are served dry. On top of the noodles, there's minced beef. Of course, if you do not fancy beef, you can have minced pork. Then you will have to stir your noodle so that the sauce are mixed evenly. Yummy looking right? Well... of course it didn't only looks nice... it's actually very nice!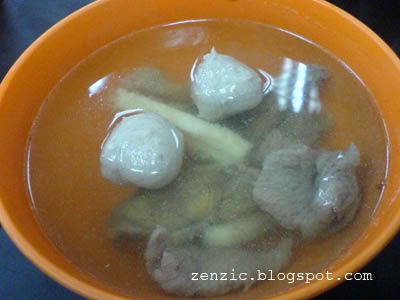 They serve the beef ball...beef tripe...beef etc etc all in a seperate bowl of soup. The soup is nice and the beef ball is really nice! I don't really know how to describe what I am eating... but it cetainly taste quite good for me lar! It's not too expensive as well. What I was having is for one person and I think it cost RM 4.50. (If I didn't remember wrongly) I wouldn't mind going there again. :D



p/s: As for Xell...I think there's a lot of things she won't eat in the bowl of soup. I think literaly nothing she will eat in the bowl of soup. hahaha...



Labels: Chinese