Korean Instant Noodles
Lunch time! It is raining so heavily that it is impossible for anyone to walk to Sri Hartamas for lunch. So my colleague decided to go get some food to eat in office in the food court.

Since it was raining cats and dogs, we had to go through the underground carpark to go to the opposite block. As we walk...we stumble upon this newly opened Korean Supermart. Actually, not exactly stumble one lar.. hahah... We've seen the shop in renovation till now is opened but never thought of going into it...

Well..since we're like in front of the supermart. In we go... and wahla... we found Korean Instant noodles. There's many flavours there and my colleague was looking for something spicy so i went for the beef flavour and she went for the kimchi flavour. Or at least that's what we think we're eating lar... haha...since neither of us understand Korean...

The noodles is actually quite big bowl lar... And you have to pour hot water and wait for about 5 minutes for the noodles to cook.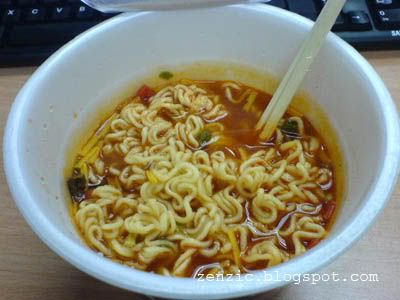 And 5 minutes later...this is what I get. There's like bits and pieces of Beef inside. It's filling for me coz it's such a big bowl. It cost Rm 3.60. =_= Not that cheap huh for instant noodles. hehehe... but it's quite nice though. I might buy again. haha