Christmas Celebration!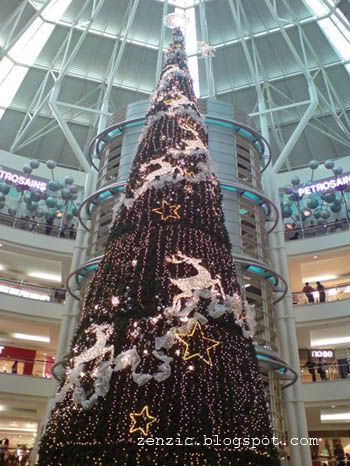 Christmas @ KLCC


I know this is a bit late... but... I need to wish all readers...
Merry Belated Christmas and A Happy New Year!
I am not sure how everyone else celebrate their Christmas, as for me, Christmas is not something I celebrate every year, however, this year Christmas celebration seems to be very different from what I have every year. And this year, Xell and Ya celebrated their Christmas in Bangkok. I'm sure there's lots of stories to be told when they get back. :D

My celebration was a bit different, but nothing really special...

Christmas @ The Curve


23 December 2006

It's a Saturday, there's nothing much to do. I went to do some groceries shopping at Giant 1u and the place was quite packed. There really was nothing much to do other than I bought Ya's Christmas Pressie. :D

Evening... I went to my favourite hangout place - Delta Cafe @ Damansara Intan. There's a Christmas celebration there with free food and all. It's one of those usual celebration they have on nearly every occassion. I'm always there, of course, not only for the free food. :P I am always there on weekend to watch football and playing darts game. On today itself, there's MU match and I'm so happy that MU won 3 -0.



24 December 2006


There's really nothing much to do on a Christmas Eve as well. hahaha.... I stayed at home until evening I went to Delta Cafe again. hohoho.... It's open on this particular Sunday so that they won't have to do business on Christmas. I was only there for a short while.

There's this shop call Innocraft at Damansara Intan as well where you can exchange for gifts with your credit card points (RHB and Maybank) or Bonuslink points with gifts. Hmm... I got a blender for myself. hohoho~~~

And something special I did this year was attending a street party held at TTDI. Extremely near my house. The street party is organize by TTDI Gospel Centre. All TTDI residence are welcomed. The party was attended by Member of Parliament for Segambut, YB Datuk Dr Tan Kee Kwong as well as Deputy Minister of Finance , YB Dato Dr Ng Yen Yen.
Many tents were set up with lots of tables set up too! There's also plenty of food like mini sausages, fried noodle, satay, curry puff, drinks....etc etc... and there's plenty of ice-cream potong as well!!! Every family that arrives gets a goodies bag which have stuff like tea, instant noodles, biscuits... The organizers were really generous with the food and ice-cream potong especially. They keep asking everyone to eat and I've seen people taking the entire box home. There's really too much ice-cream potong to share. Even the goodies bag, they're like urging everyone to take more. hahaha.....
The party starts at about 8.30pm I think. I was there at 9. They were performances to entertain you till the struck of midnight. Everyone is encourage to stay till 12am to countdown to Christmas. The performances was all by everyone from TTDI Gospel Centre. There's senior youth band performances, youth band performances etc... All performing their own "rock" version of Christmas Carol. We all sang Christmas Carol too! There's lots of Christmas Carol song sheets on the table so that everyone can sing along.

Datuk came a bit later and he gave a nice speech not long after he arrive. There's also little girls performing story on how Christmas came along. There's even a few game booth for kids to play and win lots of prizes home. I didn't go there but I saw kids carrying lots of gifts like soft toys and Pringles. The party ended after the count down.

Though I am not Christian, but I certainly did enjoy the night. I guess my entire family will be going again next year if they did organize this party again.


25 December 2006


It's Christmas! There's really nothing much to do. I went 1 Utama with my bf. Expected to be packed but we were lucky and found a parking. And there's really nothing much to do in 1u either. There's no movie to watch so we just end up sitting at some place chatting till late evening.

I was suppose to go for some expensive dinner but... in the end we went to a friend's house to have Turkey for dinner! hohoho~~~ Yup... the friend invited us to have Christmas dinner at his house. We went a bit late, that's like after the family has finish eating lar... But of course there was plenty of food available.

I was so full after the dinner. The turkey was delicious and I absolutely LOVEEEEE the rendang. The rendang was EXCELLENT! I had so much...=_= Anyway... I went home after the dinner. See... there's really nothing much for me to do on Christmas. I just went home rest, online, sleep...coz I still need to work the next day....
Labels: Christmas