McDonald's TY Bears!
McD has never failed in selling all the attractive toys/collectables which comes with Happy Meal or you can purchase with any other meal for RM 3. This time around, (which is not very long after they came out with Kitty Bricks), they are selling these adorables TY bears! It's so adorable that Xell and I have the entire collection of it. Unfortunately, Xell didn't have the Grimace Bear which was sold out.

Each of this bears cost RM 3 with any purchases. There are 2 new designs and every Thursday and you can have it free with Happy Meal.
First week: Ronald McDonald + Grimace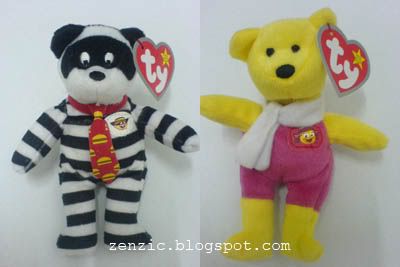 Second week: Hamburglar + Birdie


Third week: Fries + Birthday


Final week: Golden Arches + Happy Meal


Don't you think they look so adoraaaaaaaable? My personal favourite is Fries the bear! It's the most perfect bear I have and it's soooo cute! As you know, all these bears are made in China, there's always differences on how they look. Some might looks a bit more cacat or nicer than the other.

Now I know I have lots of toys sleeping on my bed with me... but I couldn't resist them!!! >.< style="font-weight: bold;">