Nippon Tei @ KLCC
KLCC was crazy last week with Isetan member's sales and PC Fair going on, it's a crazy place to visit on a Sunday. If it's not for the Nutcracker, I think none of us would want to go there. We spent quite sometime hunting for a parking and were trying to stalk this pretty big guy trying to get his parking. hehe... He's a nice big guy coz he saw us and he pointed his car's location for us.

Lucky enough to find a parking spot. But it's crazy to find an eating spot coz nearly EVERY SINGLE place is packed! Can't be blame, we were there during lunch time. T_T At the end of the day, we ended up the pretty-packed Nippon Tei.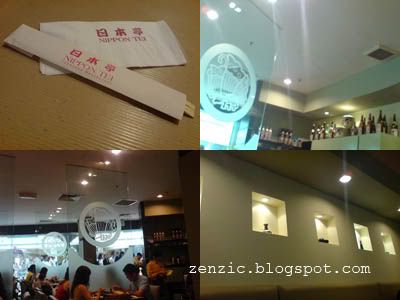 Even it's pretty packed we still need to wait for a couple of person before us (roughly 15 minutes) before we get seated. It's pretty nice place. It looks quite big from the outside, but judging with the amount of seats they have, I would say it's pretty small.
The interior of the restaurant is pretty nice. Clean and quite relaxing. Everything on the menu is slighly expensive. Nearly everything is cost RM 20 and above.
Clockwise from top left: Nabeyaki Udon, Chicken Katsu Nabe,
Teppanyaki Chicken and Chicken Teriyaki Set.
All rice sets comes with Salad, Miso Soup and Edamame. Since none of them eats Edamame, I get to eat them all! HOHOHO~~~ I don't really fancy Miso Soup, but I think their miso soup was really nice.

The Udon taste really good. If I do go there again, I will order the Udon. The Chicken Katsu Nabe was not bad either. My teppanyaki chicken was not bad but I thought the sauce was a bit too much and watery. As for the teriyaki, the sauce was SOOOO sweet. =_= If you mixed with rice, it will taste really good but if you try to eat the chicken covered with sauce alone... hmm... I don't think it's such a good idea. :P

The bill came up to RM 105.80. It's about RM 25+ per person. My teppanyaki is the most expensive among all - RM 25. The rest is about RM 22-23. You will need to pay 10% service charge and 5% govt tax. I think it's a pretty good lunch. :D


Location & Contact:-

Lot 426/427, 4th Floor Suria KLCC
Tel: 03-21614176 / 03-21614169
Labels: japanese