Zuup Bar @ 1 Utama
Zuup Bar is one of those places we've frequented for many many years. We love the food and we love the people working there. The bosses are extremely nice people!!! We always chat with them and their name are Gavin and Mike. Anyway, there's been quite some changes to the shop and menu ever since we started eating there. Change for the better of course!

Zuup ...the name sounds like soup right? haha... They sell all sorts of soup here! Most famous for their Mushroom soup I guess. It's really good. After all the changes they've made, Zuup now has a soup menu and a normal menu with every other food other than soup. hahah... They also took over Famous Amous shop lot and now Zuup has an inner room which is pretty hidden.

I've tried most of their soup. Personal favourite is... their Irish lamb stew!!! This time around, Ya and I had clam chowder.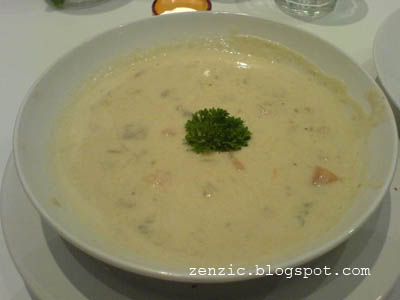 Look at the soup! yummy! it's really thick with a lot of clams in it! You can have the soup in a bread bowl but we were having meal and the soup is plainly for sharing, we didn't. Otherwise there's no way we can finish our food. :P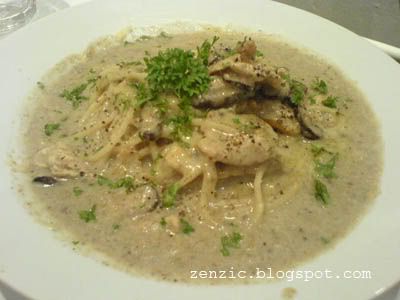 Ya had mushroom spaghetti. Or I think that's what they call it in the menu. ahhaha... The spaghetti is pretty much cover up with mushroom soup. They serve very good mushroom soup here but this spaghetti is something new on their menu. It taste good!
As for me, I had black pepper chicken chop. It was good except for there weren't enough sauce. And of course, with excellent customer service here, I was given extra sauce. :D And my, the piece of chicken was big and I really had to stuff myself to finish my meal coz we had soup as well.

And this is Xell's favourite. She nearly ordered this EVERY single time she eats here. It's call chick on toast. There's this big chunk of chicken, with ham layered on a slice of toast!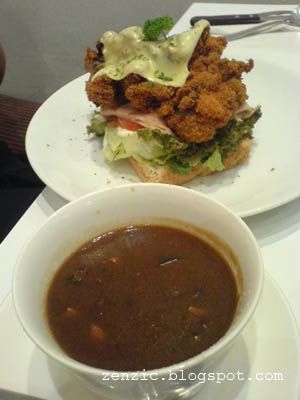 Usually the thick sauce with lots of mushroom is serve with Chick on Toast. Since Xell hates mushroom, she requested for the sauce to be serve seperately. Or shall I say... Gavin/Mike knows that Xell hates mushroom so they wanted to serve the sauce without mushrooms. Ya was saying she will have all the mushrooms (which in the end she didn't), so Xell was ok with the sauce having mushrooms inside. But to our surprise, there were LOTS of mushrooms. hahaha...

It's a really relaxing place and it's one of our favourite restaurants. The restaurant has Free Wifi and also PS2! Play all you want, it's free. :D Do go there and you won't regret.

Zuup Soup Bar

(pork free)




LG 223, Lower Ground Floor,




1 Utama Shopping Centre, Lebuh Bandar Utama,




47800 Petaling Jaya,




SELANGOR




Email:

zuup@ycan-ventures.com


Operation Hours: Monday to Sunday From 11:30am to 10:00pm


www.zuup.com.my