Dragon-i (龙的传人) @ The Curve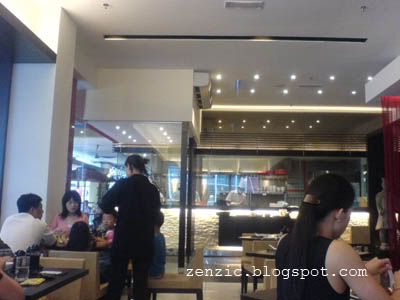 I am sure quite a lot of you guys have eaten here before. It's been open for quite some time. The very first Dragon-i was open in 1u. Then you start seeing them everywhere. There's one branch at Centrepoint. I am not sure where else they are at, but I saw the restaurant at The Curve. Having eaten in most of the restaurant at Curve and despite Dragon-i is not the latest restaurant around, my bf and I have never stop foot in this restaurant before.

Partly coz there's alwaaays a looong queue and packed in 1u and also thinking that the price of food here might be quite costly - which... it is quite costly lar. Not those cheap Chinese food ok?
四川麻辣口水鸡 (Szechuan Spicy Steam Chicken)
Since we already decided to eat here, we're ready to spend the money on food also. First we ordered cold dish. This steam chicken is actually a cold dish, so the chicken is COLD. I think it actually taste not bad. The chilli sauce is really nice unfortunately... I don't find too much taste in the chicken. As in the chilli taste didnt really go into the chicken. But overall, this dish is not bad.
上海小笼包 (Shanghai Dumpling)
In Dragon-i, they're pretty much famous for their 小笼包 (siu long pau). The dumpling was really delicous! You're suppose to eat with some ginger I think. Of course, if you don't like ginger, you don't have to attempt to eat the dumpling with ginger la...

There's really some steps to follow when eating this dumpling. Of course, you have to bite the end a bit first and drink up the soup inside. If you try to bite the entire thing just like that, you will have soup splurting out or spilling out from your mouth. hahaha... which it happens on the table next to us. This man tried to eat the entire dumpling just like this end up the soup drip all over his shirt. hahahaha... Luckily I told my bf how to eat the dumpling, if not he would probably suffer the same fate.
鸡火炒饭 (Chicken and Ham Fried Rice)
My bf have his habit of eating fried rice from every restaurant he goes. This time around, he couldn't decide what fried rice to go for coz there's really a lot of choices. End up he went for the standard kind of fried rice. According to him, it taste quite good and it's like those hotel kind of fried rice.
酸辣汤拉面 (Hot and Sour Soup Noodle)

My dish really took some time to prepare. Anyway... when the waiter brought the noodles, he actually ask if I want my noodles to be cut (at the same time producing a pair of scissors). I find it quite weird, so I said no and when I start eating the noodles, I seriously regret!!! Aparently, hmm...I think their noodles are home made, so it's really thick! It's not like those normal Ramen. argh... I had a hard time eating it. It's damn filling too!

The soup is really nice with plenty of ingredients inside. Lots of szechuan vegie and meat and... hmm... I can't remember what else I found inside. :P It's really thick. Actually you can order the soup alone too!

Dragon-i also serve their home made ( I think it's home made) chilli. There's shrimps inside the chilli. It's those Hong Kong style chilli paste. It's really good. I love their chilli.

As you can see, obviously this meal didn't come cheap. Overall the meal cost RM 60++. Most of the dish cost RM 12 -RM 15 except for the dumpling. Overall, it's a very nice place to eat with plenty of choices to offer in their menu. I will probably go there again. :D

Labels: Chinese