I got my passport!!!
I know you guys are screaming for updates!!! hahaha... Seriously I really have loads to blog about but never got around blogging it like since....after CNY? hahah... Been sick the entire CNY and after CNY also my Shingles is not fully recovered. Actually still got some scars remaining... poor me :(

Anyway... It's been decided that we're leaving for London 4th May! Hurray... And unlucky me is... my passport expires 2 January 2007. -_-''' So I had to make new one. And actually... I made it on the 4th day of CNY. I think it's a Wednesday. Yes... I know this is damn outdated. Anyway... It was DARN PACK ok!!! Look at the Queue!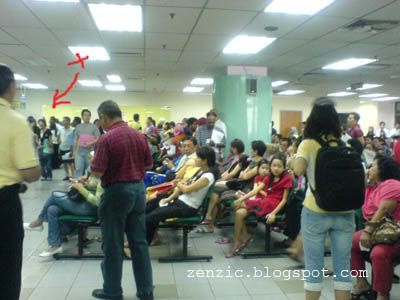 'X' indicates the beginning of the queue to get number to make ur passport!
'Y' indicates end of queue. As u can see...the queue is so loong that it actually makes a round of the entire immigraion!!!


Lucky thing I got my sister there with me. I was stuck in immigration from 8.30-11.30. Thanks my mom for telling me that CNY, maybe less people. But you know what??? The amount of people making passport on that day is double the usual amount!!! It actually came out in the news!!!

http://thestar.com.my/news/story.asp?file=/2007/2/22/nation/16944431&sec=nation

Anyway... nowadays when you make passport you can actually get it on the same day. After 2 hours, you can collect your passport d. :D So I actually got my passport on the same day. And if you already have an existing "new" passport, as in with the chip inside, you can use the kiosk to make your passport too! It's really fast actually unfortunately... though the kiosk is suppose to speed things up, there's still a verrry looong queue to it coz some of them don't really know how to use the kiosk properly.

Hmm... that's about what I want to say now. hahahah.... I will update more la. :D