Movie: 300 by Frank Miller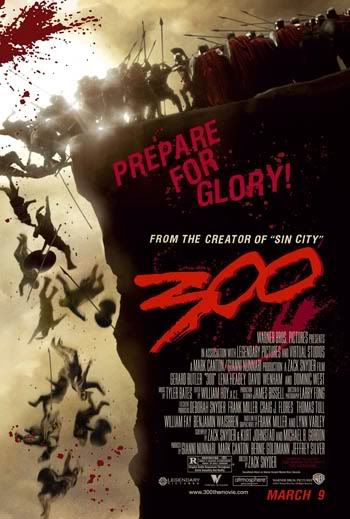 I should've post this review a long time ago. But like I said, I never got much time. I am quite occupied with Heroes currently actually... hohoho...

So..I watched this movie with my bf and a couple of his male friends. This movie really kick-ass!!! Everyone and anyone should go and watch it of course, except for those 18 below kids la. The storyline is very simple, it's about 300 Spartans having a war with 1 million Persion army. Not going to tell much about it. You can read it up at Wikipedia.

I tell you... there's just so much blood in this movie! BLOOD!!! SO MUCH!!! And of course, the entire Spartan army really has this gigantic body with 8 packs!!!! You see, I am not really that interested in watching half naked men la. But seriously... the movie rawks!!! It's just so good. There's head chopped off, limbs chopped off flying everywhere ... in slow motion some more!!!

hahaha...enough about the gory bits. It's really damn good. Go watch it!!!