Porto Romano @ TTDI
Porto Romano, an Italian restaurant which is opened very recently at TTDI. It's next to California Pizza and it's quite difficult to miss with the large purple restaurant name. I've been making noise I want to dine there ever since I saw it opening. So... one fine, nothing-much-to-do Sunday afternoon, my bf and I, not knowing where to have our lunch at TTDI (it's about 3pm), we ended up in the restaurant.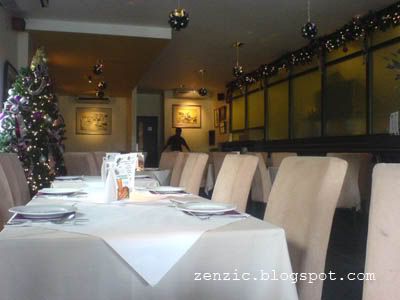 There was a warm welcome when we step into the restuarant. The staffs were very polite. Since it's a 3pm afternoon, we had the entire restaurant to ourselves. The restaurant is lightly decorated with Christmas ornament to bring out the Christmas mood. There's some light Italian music playing on the background. It's really a very comfortable environment to dine in.


The restuarant looks quite posh however the prices in the menu is cheaper than I expected. The food range between RM 10 - RM 40. They have all sorts of wine glass on display, I believe they do serve some good wine here.
There's also an open area for smokers or for anyone who wish not to dine in an non air-conditioned environment.
Since I am not suppose to be eating "too" much, I ordered one of their house specialty - "Porto Romano Seafood Soup". I think that's what it's called. :p The soup looks really good once its serve. There's a generous amount of calamari, prawns and clams filled with tomatoes and garlic taste. There's plenty of tiny garlic cubes in the soup. For someone who doesn't likes garlic, this is not something they will like. I am a garlic person, I seriously enjoyed the soup. There's also just nice amount of black pepper taste in the soup.
My bf was really hungry. We didn't know what to order, so the usual thing we like is Beef Pepperoni Pizza! It's known as Devil's Pizza in the menu. :P And my my, when the pizza came, it really made me drool! The smell of the pizza is just soooo nice!!! It's really cheesy and with lots and lots of pepperoni. All big pieces!!! The crust is so thing it's like having cheese on top of biscuits. This really is one of the best pepperoni pizza I've eaten.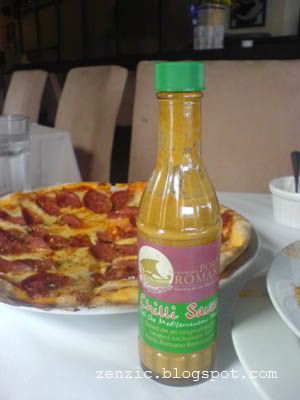 The restuarant not only have many house specialty food, they have their own chilli sauce too! This Chilli sauce is made out of red chillies, vinegar, ginger and salt. And this is what I call Chilli sauce, it's really spicy!!! Those Campbell, Heinze etc chilli sauce really cannot compare with this. hahaha.... oh... the chilli sauce is suppose to goes well with pizzas and pasta. I didn't have much coz I find it very spicy. :P (This is not something Xell can touch!)
Without the need to request, there's parmesan cheese and dried red chillies served right at table. :D Excellent service! hahaha....

This was really a satisfying meal. I felt so happy leaving the place and I must go back there again. For some reason, I really enjoy Italian food. :D I love the food at Antonio's too! Though the 2 restaurants have completely different ambience and theme so you will have a different dining in both of these 2 restaurants.



p/s: Xell, Ya, J... You guys wanna dine here next year? I think we still owe you guys one meal :D Since this place is not that bad...why not we have our meal here?